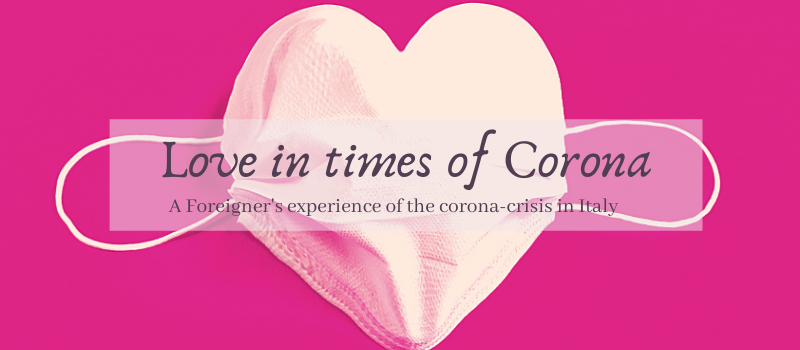 The past two months have been a rollercoaster of emotions. The corona crisis has hit Italy hard. When the first news about the Covid-19 virus started popping up, even when the first cases arrived in Italy, many of us (me included) didn't take it too seriously. "It's just a normal flu" gradually went to "it's probably more contagious than the flu, but it won't affect our lives too much", which in a matter of days became a total lockdown of the entire country. Something nobody was really prepared for, nor mentally, nor practically.
For the longest time I had no idea what to do with the situation. The first few weeks I went through a depression relapse (which I'm still recovering from) and lots of anger and loneliness. I didn't feel part of this country. I felt left out. Everywhere there was talking about how "we Italians" should unite to fight this virus. How we should make the sacrifices needed, in order to have a better life later. But I felt like nobody talked about me. A single woman, living on her own, not Italian by birth. On top of that social contacts and being able to go outside are essential for my mental health. Those weeks were dark, scary and bitter. I tried to understand the situation, but it's hard to really understand something that's already pretty dark itself when you find yourself in a dark place.
Falling out of love
Almost I lost my love for Italy. For Florence. And for the Italians. I didn't understand them, I felt left out. Every time I looked at the websites of Italian newspapers, I got bombarded with emotional messages. With things that I felt tried to make me feel guilty and threatened me with fines en repercussions if I wouldn't stick to the rules. And it only seemed to get worse every day. I became angry. Felt like my rights were being violated and my needs were being overlooked, for a country that I'm not even allowed to vote for but where I am paying my taxes. Over the past few years I've given Italy my all. I learned the language, I dove into the culture and I felt like I had found my place in society here. Until Corona came and the country changed into something I had never seen before. I saw people I love dearly turning other people into the police, my friends were talking about 'complaining expats' and people I know were posting messages on social media about how bad people who don't stick to the rules are.
Honestly, I don't think I've ever felt this lonely in my life before. I felt like I didn't belong. Like nobody cared about my presence anymore, where previously everyone was raving over and over about how well I was doing with the language and how much I had adapted to the culture. All of a sudden I wasn't part of it all anymore. Just because I wasn't born here. Matters only got worse when my home country, The Netherlands, decided to be a bunch of pricks and refused Italy necessary emergency funds. And to top it all off my Italian boyfriend decided to leave me. In the midst of my depression and in the midst of this crisis, telling me he needed someone "stronger" by his side.
A Turning point
Looking back, that was probably the turning point in my anger and my bitterness. To that point he had been my social point of reference. I was still allowed to see him carrying a letter from my psychologist stating that I needed to see him for mental health reasons. That aspect of my quarantine life disappeared all of a sudden and I was forced to make a choice: continue my healing as I had started the process the past weeks, or hide in my house and let the bitterness get the better of me. I decided I did not want that. I made it my mission to explore myself and my relationship with this country, with the people I had surrounded myself with, with the city and with life in general.
I started to ask questions to Italian friends. Had long conversations about the culture, the attitude and the roots of that. I started to not take the rules as seriously and started going out more. Nothing wild, but just taking that extra walk to the vegetable stand down the road. Where I know the owners are always there with a big smile and in for a little chat and a few kind words. I started meeting up with friends in creative ways: whilst throwing out the trash, having someone over for a coffee who lives nearby and meeting people for a dinner at their house. Nothing very illegal (in Italy there's a difference between illegal and very illegal. I swear!), I still had my psychologist's letter backing me up. Thanks to those sweet people, to my changing attitude and to consuming less news, I felt like my mood started to change again.
The skies looked brighter, I started enjoying the little encounters on the streets again, and people weren't as tense anymore. I noticed there were tiny little moments of real happiness again. I realized Italians were not just being dicks with their united attitude against the virus. They were genuinely concerned about their elderly. Where in my culture the emphasis is very much on the quality of (the end of) life, here life itself is so much more valued. Not doing everything you can to give people the longest possible life is viewed as neclect. You need to do everything in your powers to take care of the elderly. I have my own private feelings about that, and they for a large part are not similar to what the Italians think. But I came to realize that if I really want to live here, be happy here, and be fully part of the culture, I also need to understand this aspect of it. So I made it my mission to dive into numbers (I've never been much of a numbers girl, but in the midst of the emotional tendency that Italian journalism has, I've found numbers and facts to be the resource that helped me understand the situation better). I learned that a city like Bergamo, of 120 000 inhabitants has lost almost 6000 people over the past two months. That's 600% times more people who died in this period than would normally be the case. If those numbers don't do it for you, I don't know what will…
Everything will be ok
It also helped that alongside with my process, I could see the Italians relaxing a bit more. I felt the atmosphere on the streets change, I started running in to acquaintances again and with the introduction of facemasks (and them being obliged later on) people became less frightened of passing each other on the streets.
Last week bars and restaurants opened up again for take away and since last Friday we're allowed to exercise outside. The Italy I knew before has been coming back. Slowly, but steadily. People are determined to make the best out of it and so am I. Last Sunday I went for a walk up to Bellosguardo, where you have a magnificent few over the historical centre of the city. I saw the shining copper ball on top of the Duomo, the facades of the beautiful churches. I saw the tower of the palazzo vecchio proudly overlooking the city. And so did I. I looked at Florence. My beautiful Florence. And whispered to her and to myself "andrà tutto bene". Everything will be ok.
Want to help Italy get back on their feet? Support Italian businesses and organisations. My amazing friends Elisabetta and Mirko run the best language school in Florence: Monnalisa School. Order take-away from one of my favourite restaurants.