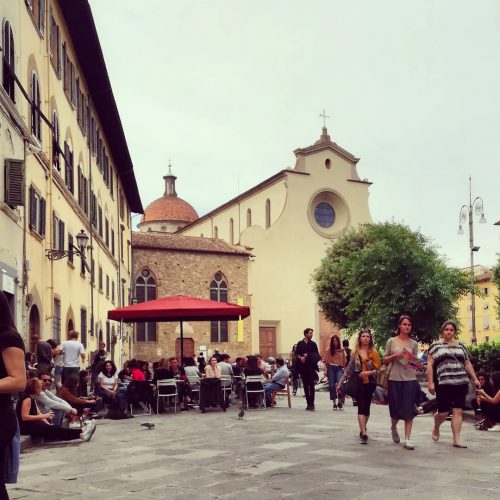 Today a year ago I got on a plane to Florence, not knowing yet that that weekend would be the weekend that would change my life forever. It's right there and then that I decided that I didn't want to do anymore what I had been doing for years: just continuing. Staying alive instead of living. 3 Months later I moved to Florence and despite it being very, very hard at times, I haven't had any regrets for a single minute.
So much has changed since. I have adapted to a new culture, I'm getting the language slowly but gradually, my business plans are developing. I'm coming off the antidepressants I have been on for years and most of all: I feel so, so happy. Yes, there are difficulties and as a matter of fact, with Ferragosto coming up and everyone going out of town for the next few weeks, I feel a bit lonely every now and then. When the guy repairing my bike this morning (within and hour! Eat that, Dutch bike shops) chatted to me in his thick Florentine accent and I didn't understand a single word for a minute, I felt like such an idiot. And when I was biking through the city and had to yell at people because if they turn tourists, they stop using their brains for some reason, I just wished all the tourists and the heat away for a minute.
But then there's the friend that I called yesterday and spontaneously met me for coffee (and who speaks Dutch, bonus points for that: lekker ouwehoeren!), there's the language school where I started learning the language in the first place and where I was this afternoon, realising how I can actually chat away with all the lovely people there now, where nine months ago I only knew the basics. There's the realisation that at least I know now that the bike guy speaks with an accent and that it's not standard Italian he speaks. And there's the fact that I get to bike through one of the most beautiful cities in the world, get to complain to all the locals about all those damn tourists, because now I'm a local too. For every downside, there's an upside. And that is how my life is now: it feels balanced. I feel happy and at ease with how it is.
Three months from now I will celebrate my first year here. I can't really believe it myself just yet. But it has been the greatest, scariest and also the most courageous thing I have every done. I finally feel proud of myself. For being me and not letting my mind stop me from following my heart.