Best gelato in Florence: authentic ice cream off the beaten path
The minute you enter Florence, whether it's through the airport, the train station or on foot, you'll see them everywhere: gelaterias. Shops where they sell ice cream in all shapes and sizes. All claiming to have the best and most authentic gelato in town.
But how do you really find a good one? Here are some tips and tricks on how to really enjoy the Italian gelato experience, as well as some of my personal favorites!
Gelato ≠ Ice cream!
You probably won't offend anyone calling gelato ice cream, but according to the Italians those two are very different things.
Where we know ice cream as rich in sugar, fat, cream and other things that are delicious but not necessarily good for you, real gelato is said to contain less sugar and fat, as well as "less air".
This allows for the real flavors to manifest themselves more intensely. It's also less stiff than regular ice cream, which enables the beautiful swirling motion with which cones and cups are usually filled.
Gelato 'artigianato', artisan's gelato, is a big market in Italy and holds a bigger share than mass produced ice cream. Gelato really is no joke!
Big and beautiful looking piles
Wherever you go in Florence, especially there where there are many tourists, you'll find shops with windows full of heaps of gelato in all kinds of bright colors.
Though this may look attractive and spectacular, do not get your gelato there! The fact that the big piles of ice cream don't melt like crazy should already give you a hint of what's going on… It's usually mass produced ice cream, full of sugars an additives which enable it to keep its spectacular looking shape.
However, the taste is artificial and full of sugar. Not even close to a real gelato experience. Stay away from those shops and find yourself one of the places listed below for some real Italian gelato.
Best gelato in Florence: My favorites
When I first moved to Florence, being the gelato lover that I am, I was a little overwhelmed by all the different gelato shops in town. So a lot of field research was done (I know, I know. This really is a hard job) and I came up with this little list of places to go to (and flavors to try!) if you want to really treat yourself.
Local gems in Florence
You'll find that the places below are mostly in the Santo Spirito/San Frediano area. My neighborhood, so it's easy for me to run to them if I crave some fine gelato. These are in general smaller places with not as many people passing by as some of the places in the next paragraph.
Sbrino
One of the newer kids on the block. But in little over a year it has become a very popular place. With good reason, because their gelato is some of the best I've personally ever had. Their pistachio is to die for and my favorite guilty pleasure here is 'Speculoos', gelato based on a Dutch/Belgian cinnamon (and other spices) cookie. They also do great 'granita'.
The Via Senese one is usually a lot less busy than the Via de' Serragli one!
Address: Via de' Serragli 32/R and Via Senese (at the beginning, right outside Porta Romana)
La Sorbettiera
Just a small window in Piazza Tasso, but with divine gelato. Go here after a nice dinner in one of the restaurants in the neighborhood, or pass by on a hot summer afternoon. It's definitely worth taking a little detour from the centre.
Address: Piazza Torquato Tasso 11r
Gelateria della Passera
Homemade gelato, a cute little shop in a little square just steps away from the Ponte Vecchio. They have some changing, original flavors. Only big advantage of this place is their tiny little scoops. I don't really know of any other place in Florence that is that thrifty…
Address: Via Toscanella 15/R
Gelateria dei Medici
Quite a distance from the centre, so you'll probably want to use the Tramvia to get to their Statuto location. But it's worth it. One of the prettier, bigger gelateria's of Florence, with super high quality, homemade gelato in tons of different flavors. Because of its location you'll mainly find locals here.
Address: Via dello Statuto 3-5 Rosso or Piazza Beccaria 7/R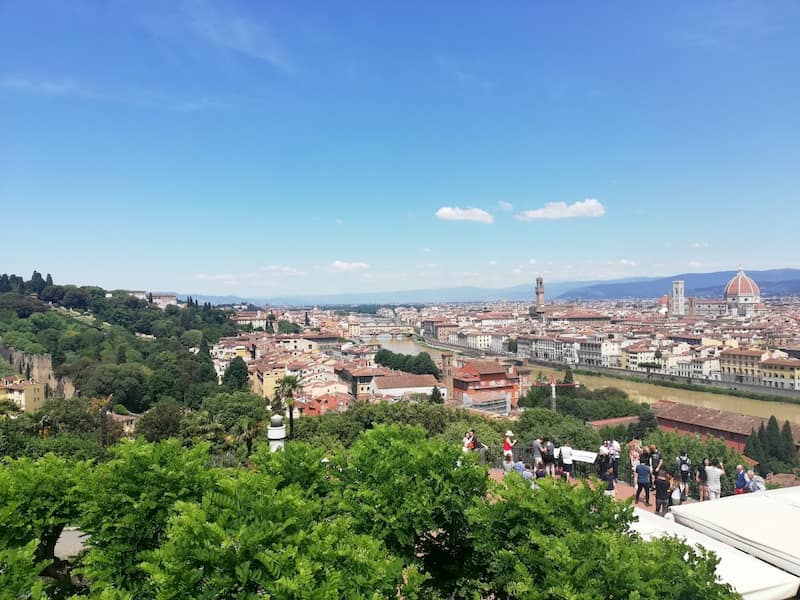 Famous, but good!
There are a few gelato places that are famous. They hit the various guide books and are all over the internet. For a good reason, because they do some fine gelato! Expect longer lines and not a very 'off the beaten path' experience, but you will be rewarded with lots of chilled goodness.
Gelateria La Carraia
In all the guidebooks, so expect some lines. They work fast and efficiently though, so you won't be waiting for too long. Their traditional flavors are really good, a more modern guilty pleasure of mine is their (super sweet!) cheesecake flavor.
Only for those with a sweet tooth like me!
Address: Piazza N. Sauro 25/R or Via dei Benci 24/R
Gelateria Vivoli
Traditional gelateria, where you can only get cups, no cones. You pay at the front first and then pick your flavors. Plenty of space inside to sit down for a bit as well. It makes for a great stop when you get tired of sightseeing.
Address: Via dell'Isola delle Stinche 7/R
Gelateria dei Neri
This place, like the other ones, has been around forever. People in summer queue up for a gelato at this place. If you like caramel, don't forget to try a scoop of their pure caramel.
Just warning you that you may not want to eat anything else for the rest of the day though…
Other great flavors include their pistachio and their dark chocolate (combined with after eight/mint gelato. To die for!).
Address: Via dei Neri 9
Buon gelato!
Ready to dive in?! Buon gelato!