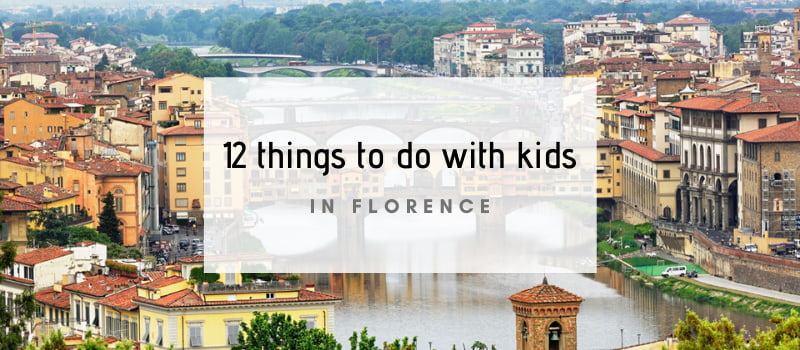 Florence is one of Europe's most magical cities to explore. However: it can be quite challenging when you're traveling with kids. A decent planning is recommended for an unforgettable experience for every member of the family.
Tell your kids a bit of Florence's history, show them a few images and arm them with a simple camera before you go. An amazing time is guaranteed!
To help you organize a family-friendly itinerary, here's a list of 13 things to do in Florence with kids.
1. The antique carousel of Piazza della Repubblica
When you're strolling through the streets of the historical city center, it's nice to take a break at Piazza della Repubblica. Here you find one of the fun things to do when you are travelling with kids in Florence: the antique carousel.
Let the youngsters take multiple rides in this iconic attraction and enjoy the beauty that Piazza della Repubblica has to offer.
2. Visit the Duomo
Age doesn't matter: this spectacular cathedral will amaze everyone that faces it. The size and its scale are overwhelming to kids and mind-blowing to adults.
Motivate your children to take some nice photos of the biggest brick dome ever built. They'll have a great time exploring the building into the slightest detail in architecture and design.
3. Go swimming with the kids
Children are always happy when they can splash around in a swimming pool. After a full morning walking through the city, a refreshing jump in a kids-friendly swimming pool makes the perfect reward.
Florence offers several pools that are open to everyone. Don't forget to bring ID-cards and swim caps. Wearing swim caps is often mandatory in Italy.
4. Find the "Porcellino"
Somewhere in Florence there's a bronze sculpture of a wild boar. Present your children a fun visual map of the city and try to find the mysterious Porcellino. This'll turn sightseeing in an amazing adventure!
If they're able to find the boar, they might want to touch its magical snout. The legend states that they'll  come back to visit Florence one day.
5. Kids-friendly tours at the Palazzo Vecchio
Let your kids experience the Renaissance during the family-friendly tours at the Palazzo Vecchio.
Your children will be surprised with lively demonstrations of how the Medici lived. They'll love the entertaining puppet shows and/or the possibility to dress up like former royals.
During these educational programs for children, they'll learn a lot of fun facts about the city.
Tip: These tours are reservation only. Make sure to make a reservation for the kids program before your visit. Ages are indicated for each individual tour.
You can book through musefirenze.it.
6. Let your kids try gelato
In Florence you'll find the best gelato in the world. You can try gelato with your kids every day! There are so many flavors… It would be a shame to miss out on traditional Italian ice cream.
Not sure where to get the best gelato in town? Read my blog about the best gelato shops in Florence.
7. Stibbert Museum
Knights on horses, impressive armor, ancient musical instruments and beautiful paintings: kids will be amazed when they walk around the Stibbert Museum.
But not only the youngsters will be impressed by the thousands of artifacts. The collection of Frederick Stibbert also offers a lot of interesting information about ancient warfare.
So if you're into history, treat yourself and your children to an educational afternoon at the museum. =
8. Make your own pizza
Children love to get their hands dirty and to create something of their own. So why not take a cooking lesson with your kids?
Experience the Tuscan cuisine guided by a professional cook. Taste the flavors of Italy and learn how to make them at home. Quality family time and delicious food is guaranteed!
Learning to make their own pizza in Florence is an experience they'll never forget.
9. Watch Florence from above
A great way to experience the beauty of this romantic city is to watch it from a rooftop bar.
Florence has many restaurants and bars that are located on top of a building. A great time to enjoy the stunning views with your family is during sunset. Make sure to bring your camera, because Florence won't disappoint you.
No idea where to go? Check out my blog with the best rooftop bars in Florence.
10. Uffizi Gallery
One of the must-do's when you're in Florence is to visit the Uffizi Gallery. Masterpieces of Michelangelo, Cimabue, and Botticelli are exhibited there.
The museum offers treasure hunts, trivia games and interactive activities to keep the kids entertained. It's wise to make a reservation before your visit, to skip waiting in line.
Do you kids like going to museums? Make sure to also check out my blog with the five best museums in Florence.
11. Relax in the Boboli Gardens
Bring Tuscany wine, fruits and sandwiches with you and take a walk through the Boboli Gardens. When you're in the city for a few days it's nice to take some nature-time.
The Boboli Gardens are the perfect place for a family picnic. Whilst you enjoy an afternoon drink, the kids can run around and play hide and seek.
Make sure to make your way to the top of the gardens before you leave for an amazing view of Florence.
12. Visit the San Lorenzo Market
Last, but not least: visit the San Lorenzo Market.
Bright colors, different scents of spices and loud people negotiating: all your senses will be stimulated.
Let your children taste the fresh food from the Tuscan countryside and try a local coffee on the go yourself.
Florence: a great destination for families with kids.
You don't have to worry about your kids when you are visiting Florence. This beautiful Italian city has plenty to offer for people of all ages. Just remember to do a little bit of research and planning in advance.
Cooking for kids, swimming pools, children's museums, amazing views, impressive history: Florence has it all!
Want to get more tips for your trip to Florence?
Check out all my Florence faves to read more about what to do in Florence.
I also share my most recent tips through Facebook, Pinterest and Instagram.
So if you'd like to follow me along my journey through Florence, you know where to find me!