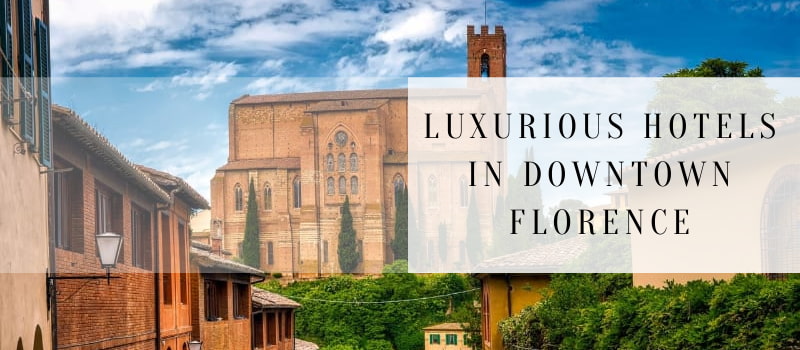 The city of Florence is famous because of its historical city center, with the amazing Duomo, the glorious Ponte Vecchio and the atmospheric Piazza dell Repubblica.
When you come to this magical city to see all its magnificence, you really want to stay somewhere close to all these landmarks.
What's the best hotel for you?
There are numerous excellent hotels in the heart of Florence. It's important to know what you're aiming at.
Do you like modern design or are you looking for Florentine elegance? Would you prefer a hotel with a view, or is absolute comfort one of your requirements?
Of course Florence has something for everyone, but it's always a challenge to find the right hotel that suits you.
To guide you in your search, here's a varied list of the five best (more luxurious) hotels in Florence.
Hotel Portrait Firenze
With its extraordinary view on the River Arno right next to the Ponte Vecchio, Hotel Portrait Firenze is located in the most desirable section of Florence.
From this luxurious 5-star hotel, you are just moments away from the beating heart of the historical city center.
The rooms and suits are designed by the well-known Florentine interior designer Michele Bonan. He managed to create a personal atmosphere in the sophisticated rooms.
During your stay you find yourself in the luxury of haute couture with all its colors, materials and astonishing details. Hotel Portrait Firenze is rightfully called one of the best hotels in Florence.
Hotel L'Orologio
An elegant and contemporary 4-star hotel based around the theme of watches: that's what Hotel L'Orologio is. It might sound strange but this property actually belongs to a Florentine collector of timepieces.
Each beautiful designed floor of the hotel is a tribute to luxurious wristwatches. Even in the rooms you can find elements of timepieces in the slightest details as doorknobs and sink taps.
Hotel L'Orologio is set on a great location. It overlooks Santa Maria Novella and it's just a few minutes away from the Duomo and the Ponte Vecchio.
If you're up for something unique, Hotel L' Orologio is what you're looking for.
Hotel J.K. Place Firenze
The familiar local Michele Bonan designed the interior for the 5-star Hotel J.K. Place Firenze. With his signature style he created a classic and contemporary interior in this beautiful old townhouse.
On the walls you find classy bookcases, vast mirrors and flickering candles that spread a warm light within the hotel. Situated on the lively Piazza Santa Maria Novella you find yourself in one of the nicest areas of Florence.
Altogether this hotel is definitely one of the best hotels to stay when you're visiting Florence.
Hotel Savoy
With an unrivalled spot on the atmospheric Piazza della Repubblica, Hotel Savoy is located in the beating heart of Florence.
The ultimate luxury-experience can be found in the impressive Duomo Presidential Suite of Hotel Savoy: 152 square meters of Italian splendor with an amazing view on the iconic Duomo.
This 5-star hotel has a fresh, hip and artsy look due to a mix of classical furnishing, antique objects, and contemporary artworks. The suites are spacious and glamorous and they enhance the hotel's Italian vibe with timeless elegance.
Hotel Brunelleschi
This 4-star Hotel Brunelleschi overlooks the mesmerizing Brunelleschi's Cathedral and is beyond any doubt one of the best hotels in downtown Florence.
The solid stone walls, arched windows, robust beams and a historic church as the center of the building remind of the building's rich history.
Every room is equipped with all the comforts that you can expect in a high quality hotel. All the major attractions are within close distance and typical Florentine street-food stalls are at your front door.
If you like to go back in time whilst bathing in luxury, Hotel Brunelleschi is the place to be.
Your stay in downtown Florence
Downtown Florence is packed with amazing and luxurious hotels equipped with all the modern conveniences. These high quality hotels are not inferior to each other and it's only a matter of taste in the end.
Looking for more tips for your trip to Florence?
Are you looking for more information about the mentioned hotels or other accommodations? Feel free to contact me and I'll gladly help you to find a hotel that fits your preferences and budget.
Also, make sure to check out all my Florence faves to read more about what to do in Florence.
I share my most recent tips through Facebook, Pinterest and Instagram. So if you'd like to follow me along my journey through Florence, you know where to find me!