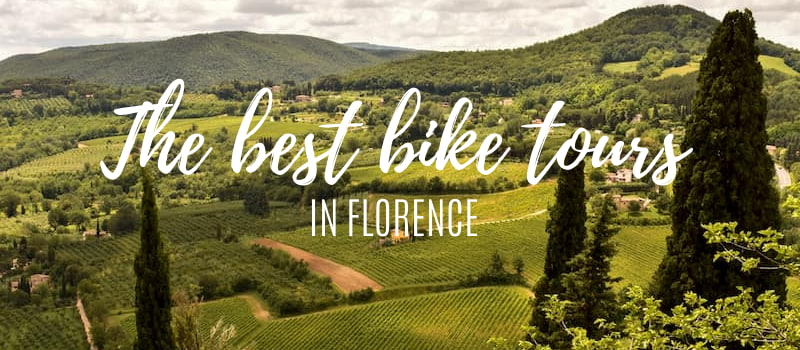 Having Dutch roots myself I try to hop on my bike as much as possible.
Not only is it an excellent way to reach different place fast, it's also one of the nicest and most effective ways to explore Florence and its surroundings. Navigate through the historic city center easily and reach the vast Tuscan hills in no-time.
Florence is mainly flat so it won't be too much of a pain! Whether you prefer exploring this gem of Italy by yourself or with an international group: there's plenty of bike tours in Florence to choose from.
But what are the best bike tours?
The six best bike tours in Florence
I've made a list of the best bike tours in Florence.
Whether you like your tours to be short or long, city or hillside, in a group or individual, with wine tasting or museum visits: this list contains something for everyone.
1. Florence Tours: All the landmarks in a few hours
Get blown away by all the landmarks during this two-hour bike tour through the heart of Florence.
Il Duomo, Piazza della Repubblica, Ponte Vecchio, Piazza della Signoria are just some of the highlights that you'll see during this bike tour though Florence.
This tour suits riders of any level. And because the group size is limited it's easy to ask your guide questions about the landmarks.
Florence Tours organizes one of the best bike tours in Florence!
2. We like Tuscany: Explore the vineyards
Cycle for a full day through the majestic Tuscan hills of the Chianti wine region.
As soon as you leave the city behind, you will be warmly welcomed by the vast and peaceful landscape.
During this Tuscany biking tour you visit an Italian family at their beautiful authentic farm. They'll provide you with a typical Tuscan lunch and you get to try their homemade wines-and olive oil.
We Like Tuscany's bike tours offer the ultimate Italian countryside experience.
3. Caf Tour & Travel: see the most of Florence with an e-bike
If you like to take it easy, take the electric bike! It's faster than a push bike and more relaxing. Caf Tour & Travel makes it easy for everyone to enjoy an active tour.
This half day bike tour will present you all the highlights of Florence without getting tired. There are several Tuscan wine-stops along the way and you get the opportunity to take stunning photos from a vintage point above the city.
The maximum number of participants is eight. It's therefore easy to ask your guide for extra information.
4. Tuscany Quintessence: e-bike tour full of art, history and nature
If you can't choose between art, history, wine and nature, this is your perfect bike tour: Tuscany Quintessence.
In a group with a maximum of eight people you explore the wonderful township Vinci. Here you get off the electric bike on several occasions: to taste wine, to go inside Leonardo da Vinci's house and to visit the Leonardo museum.
See the world through Leonardo da Vinci's eyes during this six hour bike tour that leaves from Florence.
5. Fat Tire Tours: Florence by night
One of the most mesmerizing ways to see the romance of Florence is by night. See the sun going down above the city whilst you cycle past all the historical buildings.
Fat Tire Tours offers a night bike tour through Florence. Besides watching al the beauty, the guide will explain the hidden history behind the birthplace of the Renaissance. Discover secret corners when the bike tour takes you off the beaten track.
This three-hour bike tour by night shows Florence in a different kind of light.
6. Florencetown Tours: Private bike tour
Set your own pace on a vintage bike and cycle through the heart of Florence.
Take a break for a gelato whenever you like and taste Tuscan wine wherever you want. The guide is all yours and he'll be glad to teach you everything about the cradle of the Renaissance and much more.
The three-hour itinerary by Florencetown Tours is pre-selected by the guide, but you have the opportunity to choose for a customized bike tour.
Important things to know when going on a bike tour
Whichever bike tour in Florence you choose, it's always important to have all the right information before you book it. Every tour operation has its own rules and guidelines.
If you're with a group or family, make sure to check if everyone is allowed on the tour. There are tour operators that offer special bikes for kids, others have children seats on adult bikes and on some tours kids aren't allowed at all.
Almost every tour operator advises against participating when you are pregnant or in poor health.
Several tours go on when it rains, some tours will be cancelled and a few tour operators offer alternative activities. Always ask your tour operator in advance what the possibilities are if bad weather occurs.
My overall recommendation
A bike tour in Florence is definitely worth it. Whether you like to explore this city during the day or by night, in a group or with a private guide, in the heart of the city or on the countryside: the bicycle is the best solution for you.
Check out all my Florence faves to read more about what to do in Florence.
I also share my most recent tips through Facebook, Pinterest and Instagram. So if you'd like to follow me along my journey through Florence, you know where to find me!