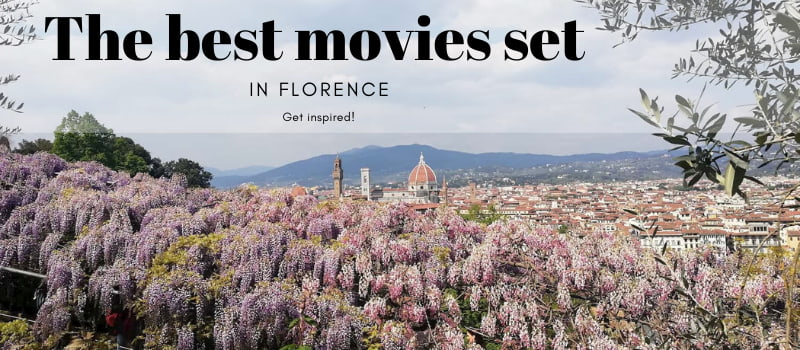 What do Inferno, Hannibal and The Gladiator have in common? That's right: they're all well-known Hollywood movies . And they were partially shot in Florence.
This blog sums up my recommendations of movies set in Florence. If you're a real movie fan and into Italian movies, make sure to read this blog until the very end.
---
Inferno
When Robert Langdon (Tom Hanks) wakes up in an Italian hospital with amnesia, he teams up with Dr. Sienna Brooks (Felicity Jones), and together they must race across Europe to stop a deadly global plot. It's the third movie in The Da Vinci Code-series, following up on The Da Vinci Code and Angels & Demons.
The movie is mysterious and creates a feeling of historical awareness. The Florence scenery helps creating this atmosphere, due to all the museums and classic buildings in the background.
Some of the filming locations include: Florence's Boboli Gardens, the Baptistery of Saint John and the Vasari Corridor.
---
Hannibal
Having escaped the asylum in The Silence of the Lambs (1991), Dr. Hannibal Lecter (Anthony Hopkins) goes into hiding in Florence. Back in America, Mason Verger (Gary Oldman), an old victim of the doctor, seeks revenge. Disfigured and confined to a life-support system, he plans to draw Lecter out of his hiding place, using the one thing for whom Lecter truly cares: Clarice Starling (Julianne Moore).
Hannibal is a mysterious, scary thriller movie and the fourth part of the Dr. Hannibal Lecter quadrilogy.
The Piazza Della Republica, the Uffizi Gallery and the Florence Duomo star in this movie. All very well-known, symbolic places in Florence.
---
The Gladiator
This movie perfectly illustrates the Roman era. Inspired by the lives of emperor Commodus and his father Marcus Aurelius, The Gladiator premiered in 2000 and was a big success. If you enjoy watching action movies, this one's for you.
Hispano-Roman general Maximus (Russell Crowe) is betrayed when Commodus (Joaquin Phoenix), the ambitious son of Emperor Marcus Aurelius, murders his father and seizes the throne. Condemned to slavery, Maximus rises through the ranks of the gladiatorial arena to avenge the murders of his family and his emperor.
Besides Russell Crowe and Joaquin Phoenix, the movie features famous actors like Connie Nielsen, Ralf Möller, Oliver Reed (in his final role), Djimon Hounsou, Derek Jacobi, John Shrapnel, and Richard Harris.
San Quirico D'Orcia in Tuscany was the home of gladiator Maximus. The road through the hillside of Terrapille and the city Siena are also shown multiple times during the movie.
Plan a roadtrip through this beautiful part of Tuscany if you're a Gladiator fan! You won't be disappointed: the view's breath-taking.
---
Tea with Mussolini
Tea with Mussolini is a semi-autobiographical movie about Luca, who is raised by a group of English women – called the "Scorpioni" by the Italians . Together they teach Luca many lessons about life and art. I don't want to reveal too much about the storyline, but the women meet for tea every afternoon. During tea, they discuss all kinds of topics during the roaring World War and Fascist (Mussolini) time. That's why the title is 'Tea with Mussolini'.
Because the movie has a lot of humor in it, it isn't a typical war-time movie. It has the perfect mix of drama and humor. Tea with Mussolini has the power to make you laugh at one scene, and cry during another.
Filming locations of Tea with Mussolini include the Florence Duomo, the Piazza Della Signoria, the Uffizi Gallery and the medieval town of San Gimignano.
---
La Vita è bella – Life is beautiful
When an open-minded Jewish librarian and his family become victims of the Holocaust, he uses a mixture of will, humor and imagination to protect his son from the dangers around their camp.
La Vita è bella was both a critical and a financial success. It's one of the highest-grossing non-English movies of all time, and received many International awards, including three Academy Awards and the Grand Prix at the Cannes Film Festival.
This movie is filmed in Arezzo, a beautiful old village, only an hour from Florence. The easiest way to get there is by train; it's around  €15 for a retour-ticket.
If you travel by car, park your vehicle at the Parking Pietri. This parking lot also offers spots for free. If the free ones are taken, parking costs around €0,70 per hour.
---
6 Underground – Netflix
If you have Netflix and love action movies, add this one to your list. This new movie by director Michael Bay (The Rock, Armageddon, Transformers) is packed with action, humor and adventure.
6 Underground is about six agents that are chosen not only for their skills, but for their unique desire to delete their pasts and change the future. Basically they're untraceable agents, totally off the grid. They are free to fight any injustice and evil in the world, without anyone or anything to slow them down.
This movie features famous actors like Ryan Reynolds, Ben Hardy, Dave Franco, Adria Arjona and Mélanie Laurent.
The impressive car chase scene was shot on the streets of Florence. All the Vespa's and old streets that are shown in the scene, make it a typical Florentine film set.
---
Best Italian movies set in Florence
These were my recommendations for visiting Hollywood movie sets in/near Florence. If you're interested in watching some Italian movies that also feature Florence,  I've selected a few worth watching:
La Meglio Gioventu
Amici miei
I Vitelloni
I Laureati
Paisà
More tips for your stay in Florence
Hopefully you got inspired to watch one (or more) of the movies above. And visit the film sets of course!
If you're planning a trip to Florence and would like more local tips, make sure to read my other blogs too. I've made blogs of all my Florence faves.