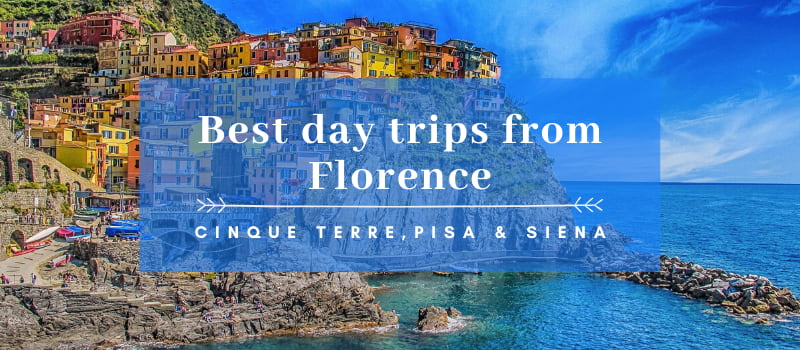 Best day trips from Florence – Cinque Terre, Pisa & Siena
I might be biased, but Florence is the prettiest city of Italy. It has amazing architecture and is full of inspiring galleries and museums.
Apart from being the prettiest, the city has another advantage: its central location in Italy. Because of this, Florence has developed a great infrastructure that connects to other cities and beautiful places like Cinque Terre, Pisa, and Siena.
In this blog I'll give you my tips for a day trip from Florence to these three popular destinations.
Day trip from Florence to Cinque Terre
The Cinque Terre area consists of five fishing villages and is also known as Italy's fabulous five. These villages are known for their stunning coastal landscapes, which made them a really popular destination for tourists.
It's impossible to visit all villages in one day, so to make sure that you'll spend your time wisely, here are the three must do's in Cinque Terre.
How to get in Cinque Terre from Florence
Cinque Terre is located in the northwest of Italy and is about two and a half hours by train or car from Florence. I prefer traveling to Cinque Terre by train, because you don't have to worry about parking your car: just sit back and enjoy the beautiful view.
Buy a '5 Terre Express day pass' for just € 16 at La Spezia Centrale and you can make a stop at every village.
When traveling by car, I recommend parking your car at La Spezia Centrale Station and continue your trip by train from there.
Must do's when visiting Cinque Terre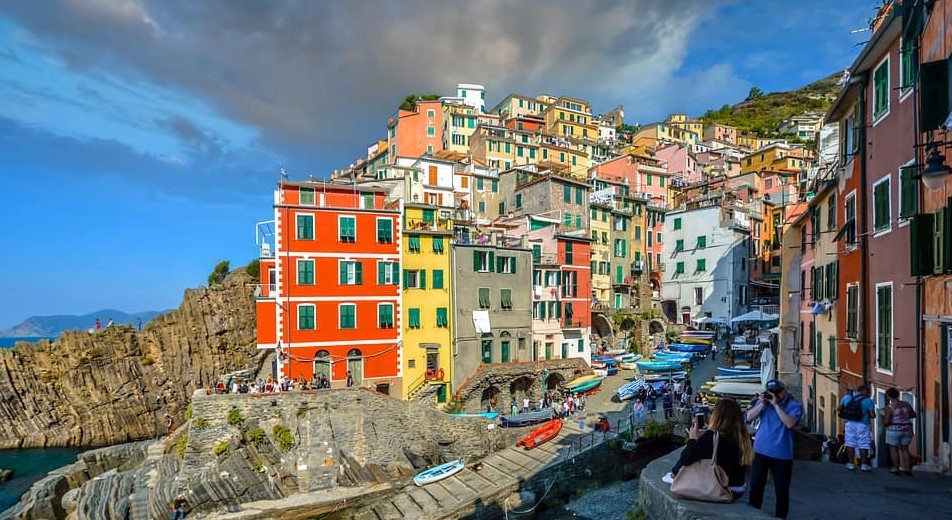 Do a boat tour
When visiting Cinque Terre, I highly recommend doing a boat tour. Plenty of ferries depart from La Spezia each day and they offer an amazing view of the ocean and the picturesque villages. The water is often a bit rough though, so keep that in mind if you suffer from seasickness.
Hike the Sentiero Azzurro and/or the Sentiero Rosso
Cinque Terre is a fabulous place for hiking, so make sure to wear decent hiking boots. The most famous hiking trail in Cinque Terre is 'Sentiero Azzurro', in English 'the Blue Trail'. This hike connects all towns and can be done in six hours if you're up for a challenge. To access the trail you'll have to pay between € 5 and € 7.
The other main hiking trail in Cinque Terre is the 'Sentiero Rosso', 'the Red trail' in English. It connects to the Blue trail, but it takes a little longer to complete. Hiking the trail will take around 9 to 12 hours. Apart from which hike you choose, remember to take your time and explore the lovely towns.
Explore Riomaggiore
The first village you'll see from the side of La Spezia is Riomaggiore. This part of Cinque Terre has a lot to offer. Take a look at the San Giovanni di Battista church, located in the upper part of the town. The Castle of Riomaggiore is also worth visiting. This castle was built to protect the village from raids by pirates. After a few steep steps, you're rewarded with an amazing view of the blue ocean and the rest of the town.
Also the other four villages, Manarola, Monterosso al Mare, Vernazza and Corniglia, are very beautiful and worth a visit. But if you want to take it easy and only visit one of the 5 villages, I suggest to go for Riomaggiore.
Day trip from Florence to Pisa
In Pisa you can visit a lot of monuments and beautiful buildings at the Piazza del Duomo. At this main square you'll find the leaning tower, the Cathedral of Pisa, the Baptistry and much more.
How to get in Pisa from Florence
The most common and easy way to get from Florence to Pisa is also by train..
Pisa is only an hour away so you'll have plenty of time to explore the city! From the Firenze Santa Maria Novella station you can take a train directly to Pisa Central Station. An hour is not that long, especially when you see pretty Tuscan towns, hills, and vineyards passing by. Missed a train? No worries, a new train leaves the platform every hour to take you to Pisa.
Read my other blog if you want to learn more about nice train trips from Florence.
Must-do's in Pisa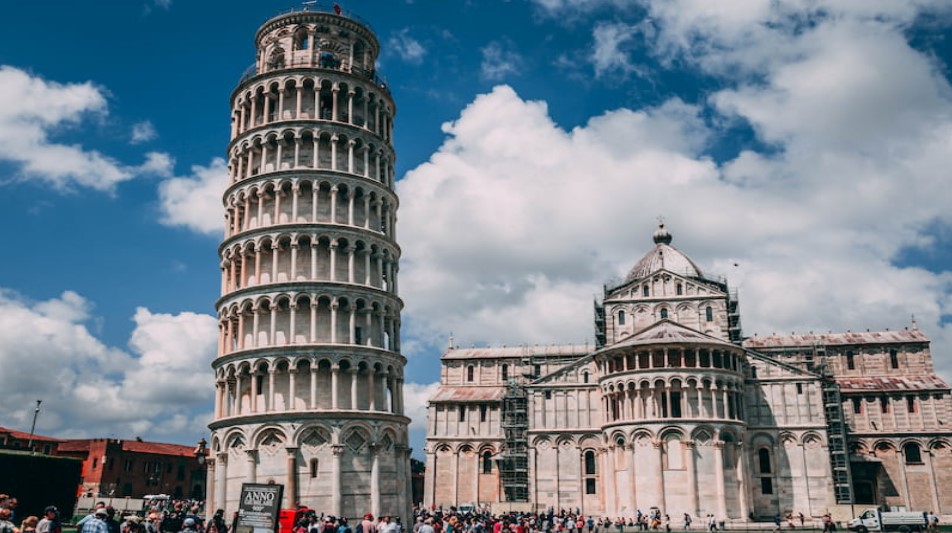 The leaning tower of Pisa
Obviously the first thing you think about when I say 'Pisa', is the world famous leaning tower of Pisa. The leaning tower of this city is just a 25 minute walk from Pisa Central Station. And if you're feeling lazy? Take the bus!
If you want to enjoy an amazing panoramic view of the city, you should definitely climb the tower. Buy your tickets in advance to avoid waiting in line via getyourguide.com.
Relax for a bit and don't forget to take a good look around. It's super funny to see all the other tourists doing the Michael Jackson thriller pose.
Pisa Cathedral – Duomo di Pisa
When you've checked the leaning tower off your bucket list, it's time to turn your head to the Pisa Cathedral ('Duomo di Pisa' in Italian). This Romanesque church is located right next to the tower of Pisa and is known for its magnificent interior. It's actually the second most important church in Tuscany, after the Cathedral of Florence. Visiting the Pisa cathedral is free with an admission ticket, which you can get at the ticket office in the building.
Santa Maria della Spina
The Santa Maria della Spina is a much smaller church than the Pisa Cathedral, but this hallmark of 14th century Pisan architecture is definitely worth a visit. And combine the Santa Maria della Spina with a walk down the rustic Arno River if you want to see more of Pisa.
Day trip from Florence to Siena
The third Italian city that is perfect for a day trip from Florence is Siena. This city is one of the most ancient cities of Italy and has a great history. Siena is the embodiment of a medieval city and has a lot of interesting remains of the Middle Ages. The whole city is built around the Piazza del Campo and blends into the surrounding landscape. Siena is undeniably pretty, but it can be a bit overwhelming at times. Here are some tips to help you find your way through the many cobblestone roads and alleys.
How to get in Siena from Florence
The easiest and fastest way to travel from Florence to Siena is by bus. Sit back, relax and enjoy the scenery: you'll get there in about an hour. The bus departs from the Santa Maria Novella train station in Florence.
A train ride is also possible, but it will take you a bit longer.
Must-do's in Siena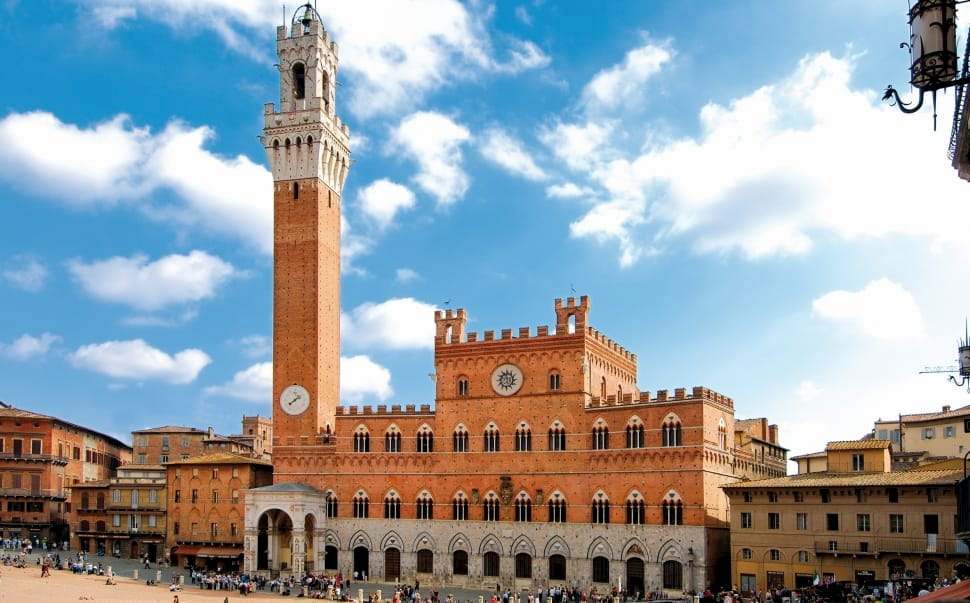 Piazza del Campo
First on the to do-list when you're in Siena: the main square Piazza del Campo. This shell shaped square is located at the center of Siena and is one of the city's main attractions. Today Piazza del Campo acts as an open-air arena for the world famous 'Palio', a horserace that is organized twice a year (2th of July and 16th of August). Keep that in mind when planning your trip to Siena.
Duomo Santa Maria
Close to the Piazza del Campo you'll find the next stop: Duomo Santa Maria. This church/cathedral was built in the 12th century and is one of the most beautiful gothic structures of Italy. Inside the cathedral you will find sculptures of Michelangelo, Donatello and Bernini.
Don't forget to buy your ticket in advance to skip the line via duomo-florence.com.
Climb the Torre del Mangia
Last but not least: Torre del Mangia. This 289-foot tower offers the best view of Siena. Although it's a 400 steps climb, it's definitely worth the effort.
After you've enjoyed the amazing 360 degrees view of the city, continue your trip to the Civic Museum. For just € 9 you can see the art of great Sienese artists from the 12th century, like Simone Martini and Ambrogio Lorenzetti.
Enjoy your day trip
There you have it: three beautiful cities that are perfect for a day trip from Florence. I hope my tips are helpful for planning your trip. If you have any questions, feel free to ask me. I'll happily advise you about visiting Cinque Terre, Pisa, Siena, and Florence of course.
Ready for more Florence travel tips?