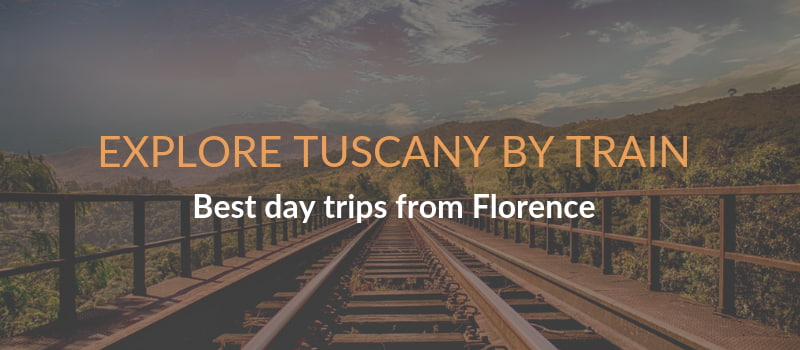 Best day trips from Florence: explore Tuscany by train
When traveling all the way to Italy, you probably don't want to see just one city. Trains offer an excellent method of transportation to get around quickly and explore the beautiful towns and cities of Tuscany.
Luckily, Florence's main train station (Stazione Firenze Santa Maria Novella) is well-connected. Excellent highspeed trains connect Florence to the country's major cities, and regional trains enable you to visit  all major towns in Tuscany.
This is why Florence is the perfect starting point to explore the region by train.
Planning a trip is always a hassle. So to you save you the trouble, I've created a list of my favorite day trips from Florence…
…by train. Obviously!
Why use the train?
Tuscany is a big region and trains still are one of the fastest and cheapest ways to travel. If you're planning on visiting a few bigger towns and cities in the region, trains are often faster and definitely cheaper than renting a car.
Of course, a rental car offers more flexibility, but at the same time there's toll roads, parking costs and very limited parking space in the often medieval city centers.
Not to mention the fact that you have to understand Italian parking rules, which are not always as evident as they seem to be.
Trains are usually clean and comfortable. And the stations are often located in the city center and within walking distance of the city's major attractions.
Where to go?
The most popular destinations to visit by train are Pisa, Arezzo, Lucca, Siena, and Viareggio. Here's why you should go and how to get there (from Florence).
Pisa
Pisa is well-known for its famous leaning tower, the cathedral, and the baptistery. You can probably fill half a day with visiting these attractions. If you don't book your tickets in advance, it'll easily take you more time, since you'll be standing in line for quite a bit.
Avoid the ques and book online through Opapisa.it.
Another attraction in Pisa is a giant mural by Keith Haring called 'Tuttomondo' (1989).
Pisa by train: travel time
Florence – Pisa: 65-85 minutes
Arezzo
Arezzo  is well-known for being the setting of the movie 'La Vita è Bella' that was largely shot in this beautiful small city. Roberto Benigni's masterpiece won 3 Oscars in 1999 and the town became famous instantly.
Besides being a beautiful backdrop for a film, Arezzo has much more to offer: a big antique market every first Sunday of the month, churches with artwork of some of the most well-known renaissance artists, a beautiful medieval center, and excellent shopping.
Arezzo by train: travel time
Florence – Arezzo: 50-100 minutes
Lucca
Besides being easy to travel to, Lucca is also very easy to get around. Unlike many other Tuscan towns it is not located on a hill, which makes it easy to walk. The old walls surrounding the city make for a perfect stroll.
Within the city you find narrow medieval streets, beautiful churches, and old towers. It's a city full of history. You will find plenty of nice little restaurants and make sure to visit the famous Lucca Summer Festival.
Lucca by train: travel time
Florence – Lucca: 80-100 minutes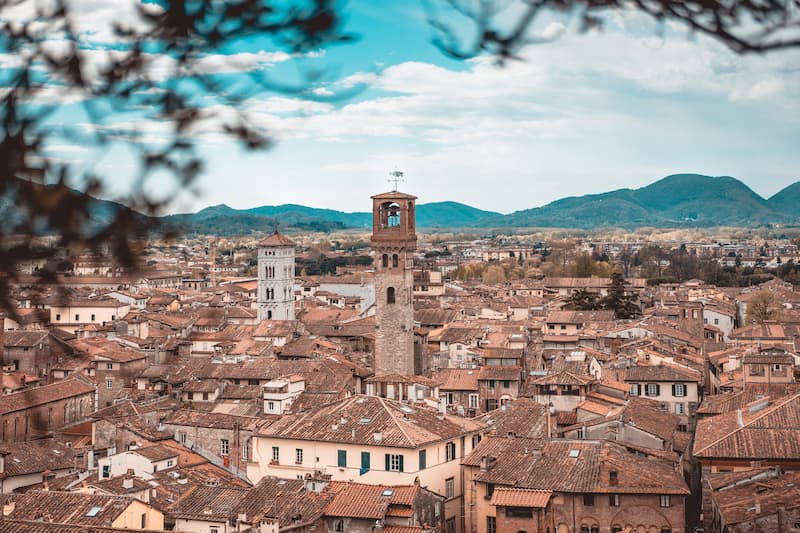 Siena
After Florence, Siena is probably my favorite city in Tuscany. A labyrinth of medieval streets lies on a beautiful hilltop, all centered around the gorgeous main square 'Piazza del Campo'. The Palazzo Communale located here is a must-visit that will take you back to Medieval and Renaissance times instantly.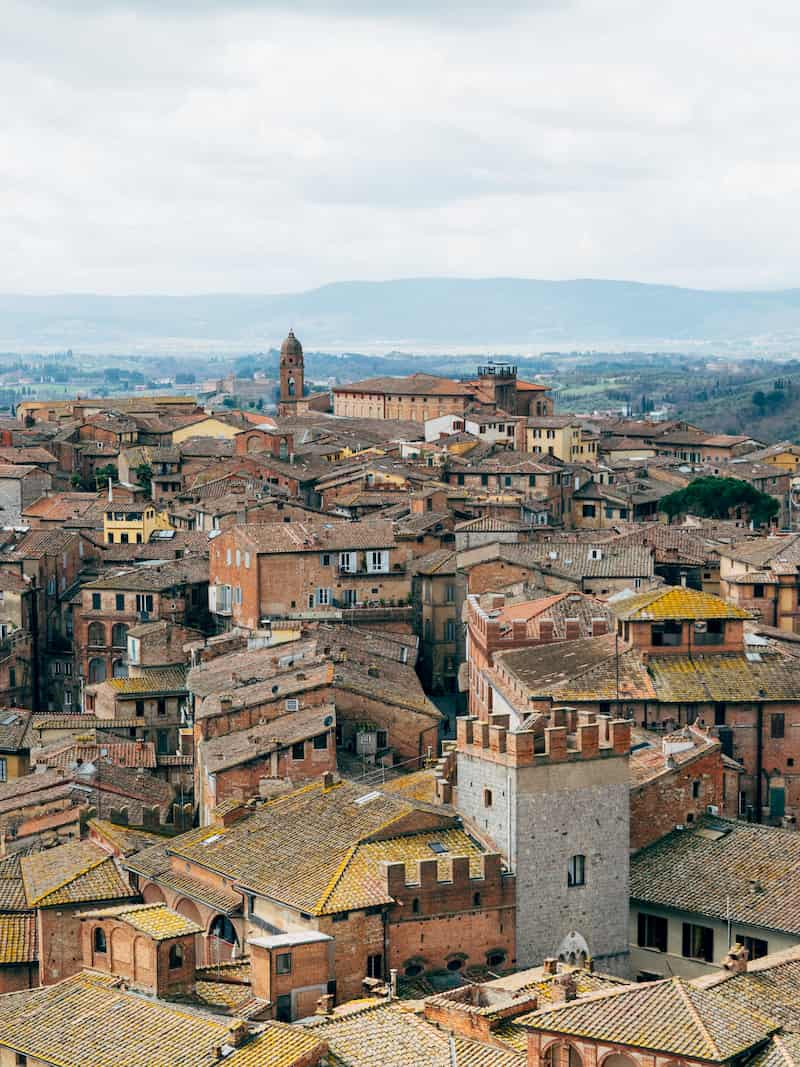 Another highlight is the Duomo (Cathedral of Santa Maria Assunta), one of Italy's finest examples of Romanesque/Gothic architecture.
Make sure to skip the lines by booking your tickets ahead though! Visit the website.
Besides the obvious highlights, Siena is an amazing city to stroll around, gaze over the surrounding Tuscan hills, and have an excellent meal in one of its many restaurants.
Siena by train: travel time
Florence – Siena: 90-110 minutes.
(There are busses that are a little faster! Check this website for more details)
Viareggio
Viareggio is definitely not the prettiest city in Tuscany. And there is not a lot to do either. However, it's a popular beach destination during the summer months and one of the beach towns most easily accessible by public transportation.
There's a little strip of public beach, but the largest part of the coastline is dotted with private beach clubs that you can enter from the boulevard.
Just pay for a sunbed and umbrella, and you will have a lovely day at the seaside. Besides its beaches, Viareggio is also known for its Carnival. [link naar kalender]
Viareggio by train: travel time
Florence – Viareggio: 90-100 minutes
Good to know
Although the trains are usually pretty fast and reliable, strikes do happen. Before planning a trip by train make sure to check with your hotel, at the train station or just at your local coffee bar (usually the most well-informed people in town!) if anything is going on.
Just ask about a 'sciopero', and they will tell you if there is a strike today.
Most train tickets can be booked ahead through the website of Trenitalia, the national railway company.
You can also book tickets for the highspeed trains through the same website ('Frecciarossa').
Another option for highspeed trains is Italo.
If you get your train ticket from a vending machine at the station, don't forget to validate it with one of the machines that are located right next to the tracks. Without this validation (basically a stamp with a date) your ticket is not valid and you risk a fine.
Last but not least
Traveling by train in Tuscany is relatively cheap and easy. However, if you want to explore more off the beaten track destinations and especially if you're looking for a more quiet beach during the hot summer months, a car may be your best option.
There are a few car rental companies in the center of Florence, but I highly recommend renting a car at the airport. because they offer more options and therefore lower prices
The best day trips from Florence (by train)
So that's it! I have just shared my favorite day trips from Florence (by train). If you have read my blog and still have questions about travelling to and through Tuscany and Florence, send me a message and I will gladly advise about the best travel options for you.
Was your favorite daytrip not featured in this list? A hidden gem no one knows about? Or a famous attraction I have just missed? Please let me know in the comments!
I'm always looking for new suggestions and we might help other readers who are planning their next trip to Florence. Thanks 😊!